This journey with bees and beekeeping began back as we entered the new Millenium in 2000.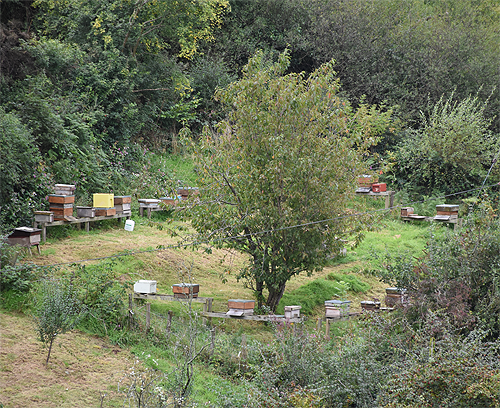 The previous autumn, I was invited to collect a swarm, but, fortunately, the local beekeeper of the time, advised me against it. Too much work was involved, as well as the risk of losing the bees themselves over the winter period. He did invite me though to help with the honey harvest and see how I got on with the bees.
This was followed the following spring by taking the local Association Beginners Course over two days. As a result, bees and second hand kit were bought, and the die was cast! I continued to attend the Association meetings whilst trying to run a family home with young children. Eventually, I broke away from the meetings partly due to family commitments and partly football clashing on the timetable!
At one point, I would say that I became a 'leave alone bee keeper', not inspecting too often and just taking a small harvest, followed by the recommended Autumn feed and treatments. This continued for several years with limited success until one season I had suffered server colony losses, which taught me I had a lot to learn.
The time was right as the kids were older and I had more time on my hands, so decided to get involved with the Association again. Gradually, mentoring and supplying new colonies became a passion, to encourage newcomers and the keeping of local bees in the area.
My hive count is growing year on year and a small scale honey room, has saved the kitchen from being too messy and sticky! I intend to continue small scale production systems, to retain quality, both for the honey harvest and bee rearing. This way it's pleasure to maintain standar